A Travel Money Guide to Spain
It's on many people's bucket lists but you're finally getting there! A trip to Spain is on your calendar and you're about to experience everything we love about this country, from Picasso to Gaudi, tapas to paella, bullfighting to the flamenco, and sangria on the pristine beaches.
But how do you make it by with the Spanish currency? We've developed this guide to give you a complete lowdown on everything you need to know about the euro, currency exchange, and paying in Spain. You'll learn about:
What is the Currency of Spain?
Since 2002, Spain has embraced the monetary unit of the European Union: the euro. The euro, which uses the symbol € and the currency code EUR, is the second most traded currency in the world's foreign exchange markets. The currency is issued by the European Central Bank.
In most countries that use the euro, the symbol is typically placed after the number, such as 1€.
Before 2002, the former currency of Spain was the peseta but since it was only valid in Spain, we're grateful for the change!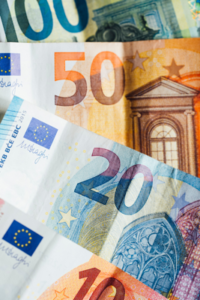 Using Your Bank Card in Spain
Some of the best travel money cards include debit, credit and prepaid cards. Spain is fairly big on plastic money and you should have almost no trouble using a bank card for payments across the country, especially in the bigger cities.
There are various bank cards you can use on your travels, each with their own pros and cons, so we'll look at them individually below:
A natural option, given you already have a debit card sitting in your wallet, debit cards are commonly accepted in both stores and ATMs across Spain.
Just be careful about the type of debit card you have; some banks charge exorbitant fees for ATM withdrawals and transactions abroad.
Some great debit cards with competitive exchange rates and low fees include: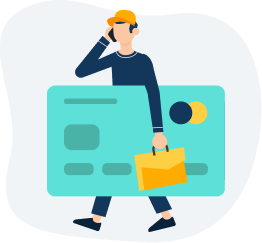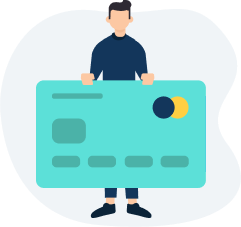 Credit cards offer a certain degree of security in case of emergency but they're not always the best option for travellers.
You might be looking at hefty cash advance charges for ATM withdrawals while also being charged charged international transaction fees and ATM withdrawal charges.
For the best credit card for travellers, consider the 28 Degrees credit card.
As one of the world's most popular currencies, you'll have no trouble loading euro onto a prepaid travel money card.
While you may not be charged a currency conversion fee, you might incur other fees, including reload fees, inactivity fees, and ATM withdrawal fees.
It can also take several days for a prepaid travel card to process a reload, so it's best not to let the balance get to zero.
Instead, try the Revolut or TransferWise debit cards; you can lock in the currency by buying a prepaid amount to load onto your card.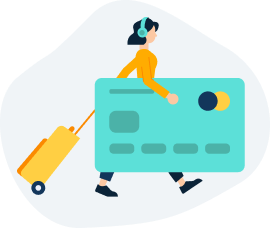 Using a Currency Converter
The euro's exchange value against the Aussie dollar and other currencies is swayed by a variety of factors, including global and local politics and economy, as well as the supply and demand of the currency itself.
For the most up-to-date conversion of AUDs to euros, use the foreign currency converter below. You can even use this tool to determine just how much it would cost you to buy euros with S Money.
How to Exchange Currency in Spain
Sometimes the travel planning can be so overwhelming that you forget to pick up some currency before you go. Or you just decide it's not a high priority.
These days, it's relatively easy to exchange currency upon arrival in Spain, whether you're coming into Madrid or Barcelona. But beware, the exchange options come with their own pros and cons.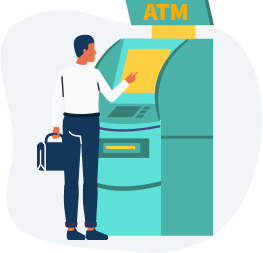 ATMs, called cajeros automáticos in Spanish, are everywhere in Spain, especially in the larger cities, where you're likely to find one on every corner.
Most ATMs accept cards with Visa, Mastercard, Maestro, Plus, JCB, and Cirrus logos. American Express is accepted in some ATMs, while you'll have more trouble using Diners Club.
While ATMs are convenient, it's good to get up to speed on the charges you'll incur using them. Withdrawing cash from ATMs may incur fees not just from your own bank but from the bank of the ATM. You might be looking at a local bank fee, a foreign withdrawal fee, a currency conversion fee, and more.
Spanish Currency Exchange Outlets
Currency exchange offices, often marked with the sign 'cambio', are common, especially in the larger and more touristy cities.
While their opening hours tend to be longer than banks, and the service quicker, you might end up paying more in commissions and poor exchange rates.
And take care in airports. We understand how easy it is to pick up cash immediately on arrival but airports tend to offer worse deals than inner city cambios.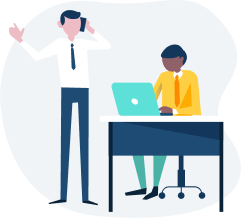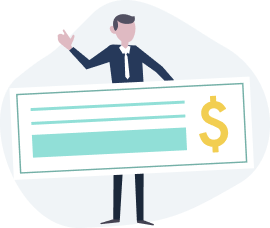 Mostly seen as a little old fashioned today, travellers cheques may be more hassle than they're worth.
Buying Spanish Currency Before You Go
If you're organised, you'll get the best deals by buying currency before you go. There are three main currency exchange options:
Buying euros online to be delivered or for you to pick up in-store.
Swapping AUD for EUR at a currency exchange store.
Buying euros at the airport.
Undoubtedly the option with the best value is to buy the currency online through a currency exchange like S Money, which offers the same exchange rate as what you'd see on Google or XE.
If you prefer an immediate exchange of dollars for euros, consider a local currency exchange but compare rates and fees before buying. Many suburban exchange bureaus aren't as competitive as inner city offices.
While the airport might seem like a reasonable option, it's not a good idea if value is your first priority. Australian airport currency exchanges provide some of the worst rates and fees in the world.
The Euro: Familiarise Yourself with Spain's Currency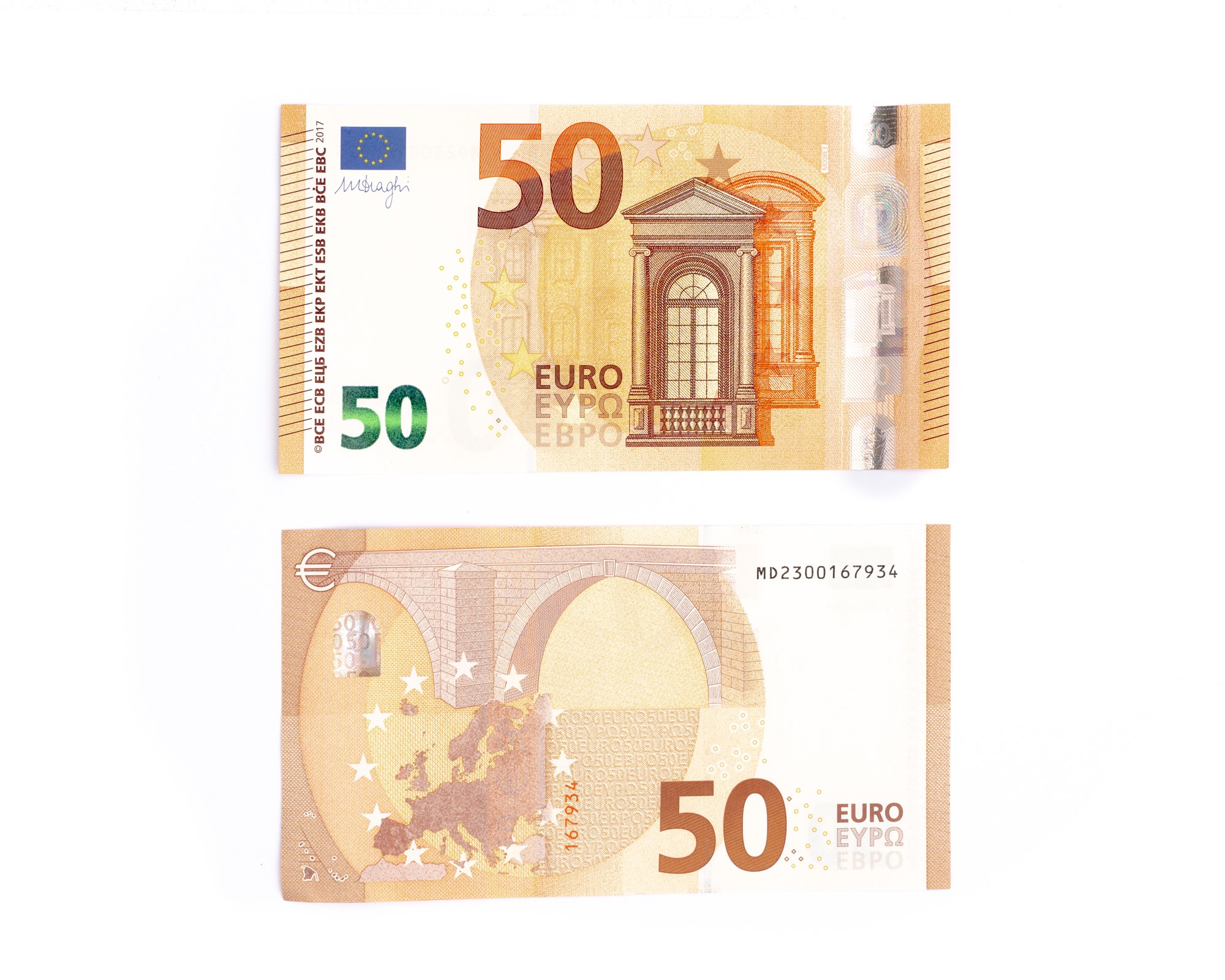 The euro is available in 15 denominations, including eight coins and seven banknotes. A single euro can be subdivided into 100 cents.
Euro coins are available in denominations of one cent, two cents, five cents, ten cents, 20 cents, 50 cents, €1, and €2.
In the eurozone – the zone where the euro is the legal tender – all coins share one common, standardised side with the coin value and a map of the European Union and one national side, in which each country chooses its own design.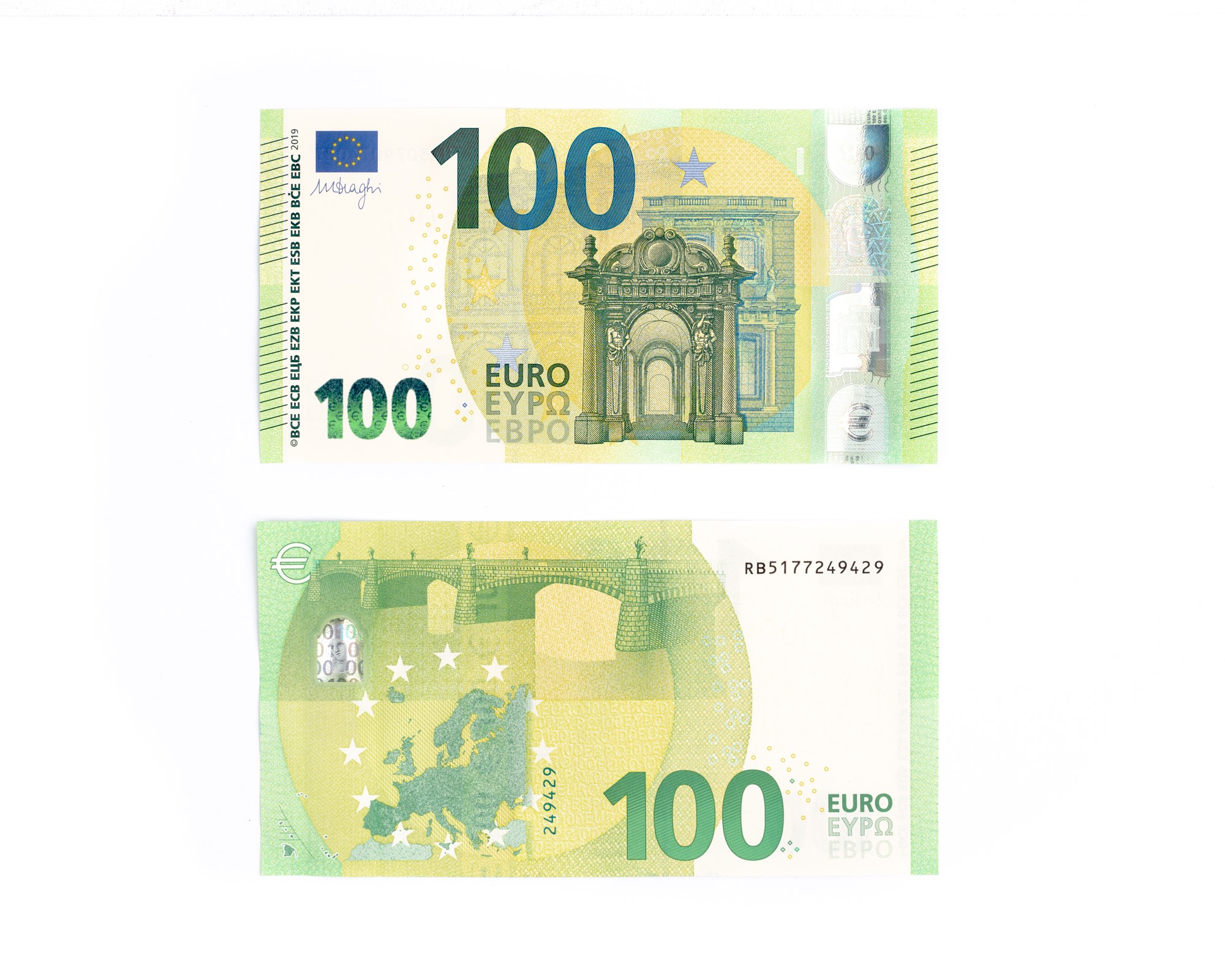 Spain's euro coins feature three designs. One, two and five cent coins feature the cathedral of Santiago de Compostela. The ten, 20, and 50 cent coins feature Spanish author Miguel de Cervantes while the €1 and €2 coins feature King Felipe VI.
All euro coins from every country are valid across the eurozone, regardless of their origin.
Euro banknotes come in denominations of €5, €10, €20, €50, €100, €200, and €500, although the €500 banknote is rare and sometimes difficult to use. Each banknote has a different colour with simple designs that represent eras of European architecture.
What Will the Spanish Euro Buy Me?
One of our hottest tips is to make sure you only get the currency you'll need for the duration of your trip to save yourself converting excess euros back into Aussie dollars again.
So to give you an idea of how much you'll need in Spain, here are some of the average costs:

€60-150 per night
A double room in a mid-range hotel

€10
A daily set menu (menú del día)


€1.50-2
A single public transport ticket

Leftover Euros at the End of Your Trip? What to Do with That Unused Cash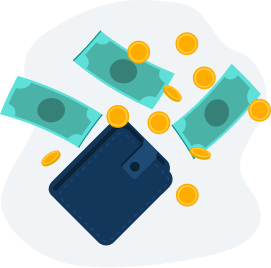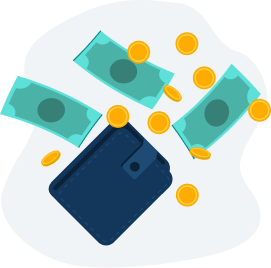 It's annoying returning from a trip with a wad of foreign cash but there are plenty of ways to dispose of these unwanted coins and notes:
Your airline might distribute envelopes for currency collection to donate to charities (check out Qantas's Change for Good program with UNICEF).
Australian international airports often have collection boxes for unwanted currency, which is donated to charity.
Drop off your currency at any branch of the Commonwealth Bank of Australia, which then gives every cent to UNICEF.
Change your Spanish currency either at the airport or, better yet, with a money changer in the city.
Why not hold onto those euros for a friend just heading off? It'll be a lovely surprise and going away gift for them!
Keep your money for later trips to Europe. The euro is the official legal currency of 19 eurozone countries and accepted by many more.
7 Travel Money Tips for Trips to Spain
While Spain is a veritable tourist hotspot (who doesn't want to visit the winding alleyways of Barcelona?), many tourists waste money through not finding the best ways to exchange their currency.
To help you avoid this quandary, here are a few practical tips to help you get the most bang for your … euro:
Avoid the airports! Currency exchange bureaus at the airport charge epic fees. If you like a good deal – or even just a reasonable one – avoid these at all costs.
Only carry what you need – It can be expensive to change euros back into AUDs so only take what you think you'll spend. Not only this – nobody likes to tuck wads of notes into their socks and toiletries for safekeeping on longer journeys.
Ask for a mix of denominations – Make it easy on yourself and the vendors by getting a mix of smaller notes. Spanish taxis are only obliged to change you up to €20 and some shops and restaurants refuse €100 notes.
Check your exchange rate – Google and XE.com are the standard market exchange rate but you'll notice how wildly bank and currency exchanges can vary their rates. Try to get as close to the market rate as possible.
Look out for hidden fees – The bane of our (financial) existence, hidden fees will often make a huge difference to the cost of your holiday. Be particularly wary of hidden bank fees for overseas card usage.
The right card makes all the difference – Having a card is convenient but it can take a hit to the bank account if you have the wrong card. Research and arm yourself with the best card for travel for big savings.
Mix it up! Many travellers only use their credit card while some only think about cash. But the best option depends on your situation. Save the card for huge purchases such as hotels and car hire and reserve your cash for smaller wins – transport, attractions, or meals out.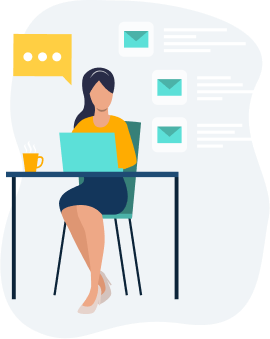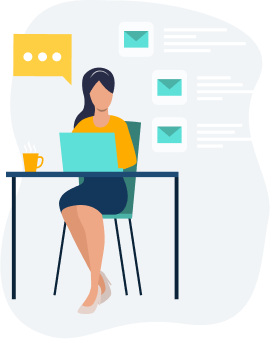 Learn more about the Euro Currency Exchange
Ready to buy some euros at a great value for your trip? Use our AUD to EUR currency converter to find out how much you'll get for your Aussie dollars today.
The Latest Euro Dollar news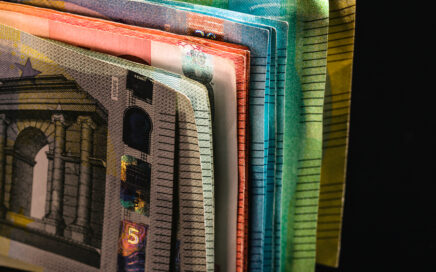 The Australian dollar is facing a mixed outlook against the Euro in 2024. The Australian dollar (AUD) has struggled against the Euro (EUR) in recent months. The EUR, which is the official currency of 19 of the 27 European Union (EU) member countries, peaked above €65.6¢ in January 2023. But it then saw a consistent decline, falling below the €60¢ barrier in the second half of the year. There are mixed forces at play which affect the value of the Euro, which covers a diverse area including the major economies of Germany, France and Italy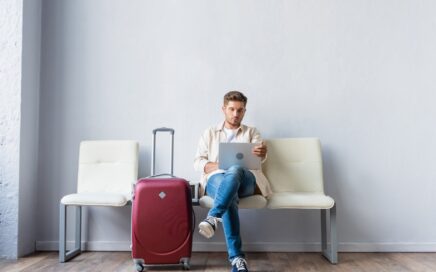 An adventure around Europe is a rite of passage among Australians. While there's plenty to look forward to, it's also important to prepare for unplanned events. That's where getting travel insurance for Europe can help. A comprehensive policy makes sure you receive the medical treatment you need in an emergency and reimburses you for lost, stolen, or damaged personal belongings. These days, comparing international travel insurance policies can also protect you from unexpected costs or emergencies arising from COVID-19.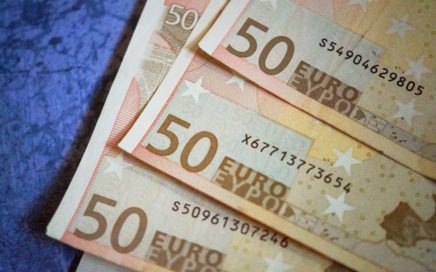 This article looks at what the banks are predicting for the AUD to EUR exchange rate over the long term in 2023. The 2024 AUD EUR Forecasts are out now With most of 2023 out of the way, attention turns to 2024. Now that most economists have released their predictions for the AUD EUR exchange rate, head here to find out the most up to date forecasts: