Revolut Travel Card Review [2023]
With some of the best exchange rates around and free weekday conversions for most currencies, the Revolut card is a worthy travel companion. It comes with an easy-to-use app but strict ATM withdrawal limits can be challenging.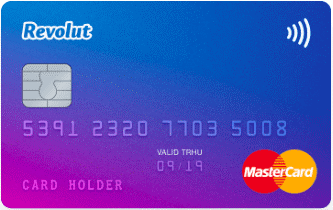 Revolut Travel Card
Best Exchange rates on weekdays
Worst Low ATM withdrawal limits
Free account available
Make payments in 200+ countries
Free withdrawals at over 55,000 ATMs worldwide
Exchange 25+ currencies
Great value with the interbank exchange rate
No conversion fees on weekdays for most currencies
Track your spending in the Revolut app
Connects with Apple Pay and Google Pay
Easily split travel expenses with friends
Over 25 million people have used Revolut
Weekend markup on exchange rates
Low ATM withdrawal limits of just A$350, or 5 ATM withdrawals per month, whichever comes first
Limited customer support available
What is the Revolut travel card?
Revolut provides a virtual account that allows you to store different currencies in a digital wallet.
With this international travel card you can make payments in Australia and overseas with virtual and physical Revolut travel cards.
With your Revolut account, you can:
Make purchases in more than 200 countries and with 25+ currencies
Send money to both Australian and international bank accounts
Receive money in a range of foreign currencies
Withdraw from more than 55,000 ATMs worldwide
Pay like a local while you're abroad
Unlike most other debit travel money cards, Revolut offers different plans with different fees and limits. We'll focus on the free Standard plan in this review unless stated.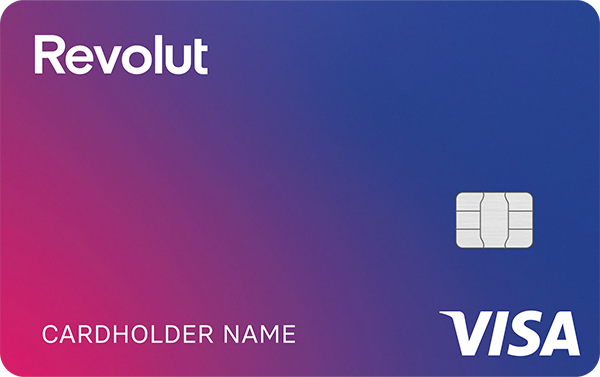 The Standard plan
Revolut is one of the best travel cards available for Australians. So what makes it so good? For a start, the Revolut Standard plan is entirely free with no monthly subscription costs or hidden fees.
You'll get great value when converting your money since Revolut, like the Wise card, uses one of the best exchange rates globally: the interbank rate.
Unlike Wise, Revolut doesn't charge conversion fees for weekday exchanges (except for Thai baht and Ukrainian hryvnia), making Revolut the best card option for midweek currency exchanges.
This affordability makes the Revolut card worth having if you're likely to make most of your purchases with the card. However, if you rely on ATM withdrawals, it may not be your best choice. Revolut limits free ATM withdrawals to just A$350, or 5 ATM withdrawals per monthly billing cycle, whichever happens first, before imposing a 2% markup(minimum charge of A$1.50).
The average Trustpilot review for Revolut is 4.3 stars with many users saying they love the easy-to-use app and the ability to track their spending. However the most common complaints centre around limited customer support.
Treat your Revolut card as a prepaid travel card. As long as you have money in your Revolut account, you can use the card to make payments and withdraw cash almost anywhere in the world. You can also use it to shop online.
Revolut allows you to store 25+ currencies (although the list is continuing to grow) and you can transfer between them to lock in a favourable exchange rate before you travel.
Revolut travel card fees (Standard account)
While it doesn't cost anything to open an account and there is no subscription fee for a Standard plan, there are still certain charges to look out for, especially when you go over your spending limits.
Opening an account: Free
Getting your Revolut card: The first card is free. Additional cards are A$8.99 + delivery fee
Replacing a lost or stolen Revolut card

A$8.99 + A$9.99 per card for standard delivery
A$33.99 per card for express delivery

Adding money:

From Australian-issued debit cards and Australian bank accounts: Free
From Australian-issued credit cards: Up to 1% of the transaction amount
From debit and credit cards issued outside of Australia: Up to 2% of the transaction amount

Spending money: Free but on weekends there is a 1% markup on transactions that require a currency exchange (see currency conversion fee below)
Currency Conversion: For all currencies excluding THB and UAH:

Free for up to A$2,000 per month during exchange market hours
0.5% of the value of the exchange for any amount over A$2,000 per month
1% of the value of the exchange for exchanges made outside exchange market hours
For THB and UAH: 1% of the value of the exchange

Withdrawing from an ATM (Not including any fees the ATM provider may charge)

5 withdrawals or a total of A$350 (whatever comes first) in a rolling month: Free
Any amount over A$350/month, or 5 ATM withdrawals per month, whichever comes first: 2% of the value of the withdrawal(minimum charge of A$1.50)
While spending limits can feel like a hassle, they exist to prevent fraud and provide additional security should you lose your card. You can change your spending limits within the app.
There are just two limits to watch out for in the Revolut Standard plan. The first is a A$2,000 currency exchange limit per month
The second — the ATM withdrawal limit — is restrictive, even by prepaid travel card standards. You can only withdraw up to A$350, or 5 ATM withdrawals, whichever comes first in any rolling 30 days without charge. After that, there's a 2% markup(minimum charge of A$1.50) on all withdrawals.
Revolut card exchange rates
When it comes to exchange rates, few travel cards surpass Revolut. It can hold 25+ currencies, there are no conversion fees for most weekday exchanges, and Revolut uses the interbank exchange rate, which is one of the best rates globally.
The flip side is that there is a fee of 1% for foreign currency conversions on the weekend when the markets are closed (Friday 5pm to Sunday 6pm New York Time).
What is the interbank exchange rate?
The interbank exchange rate is the rate banks use when they trade foreign currency with one another. It's generally a better rate than the one you'll find with a currency exchange provider.
The interbank rate is calculated by finding the midway point between the buy and sell rates of each currency. It's sometimes also called the mid-market rate or the spot rate.
How the Revolut card compares
Revolut has 3 account plans, ranging from free to paid accounts but to give you the best travel card comparison, we'll focus on the Revolut Standard plan.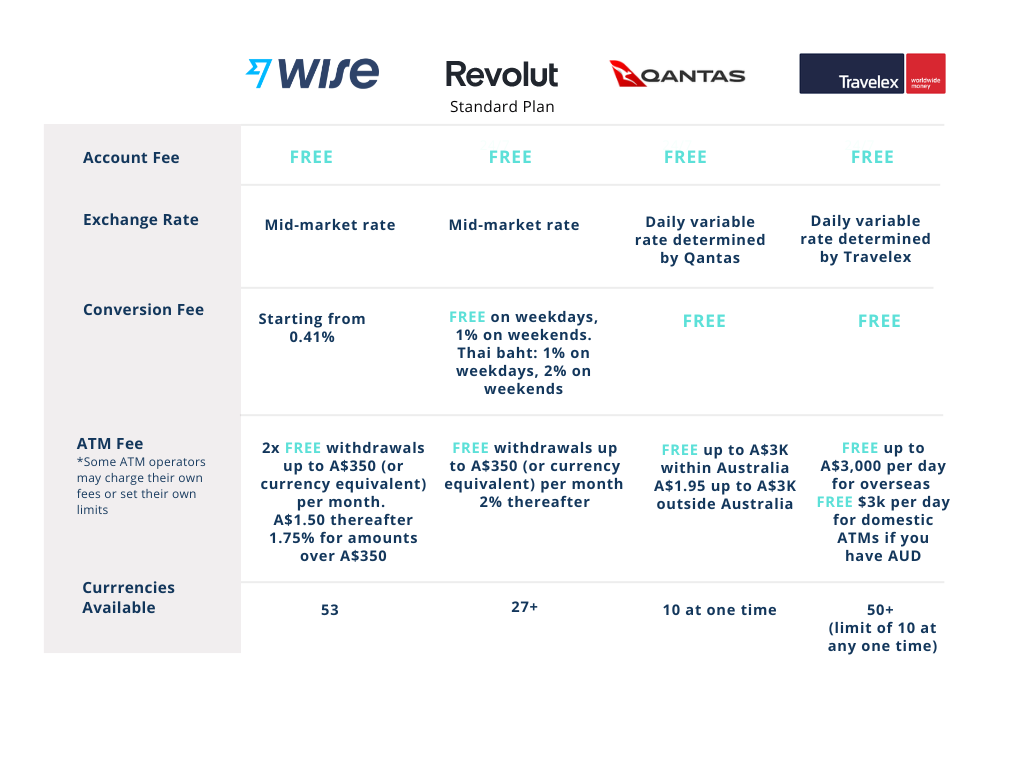 Comparing the different plans
Revolut Australia offers 3 account plans to cater to different budgets and needs. Revolut Standard is a free account that covers the basics but it also imposes tighter spending and exchange limits.
Revolut Premium and Metal are paid plans with more features and greater flexibility but you may be charged a fee if you choose to downgrade your account more than 14 days after signing up and within 10 months.
Because of this, we recommend starting with the Standard plan and upgrading if you decide the additional features are worth it.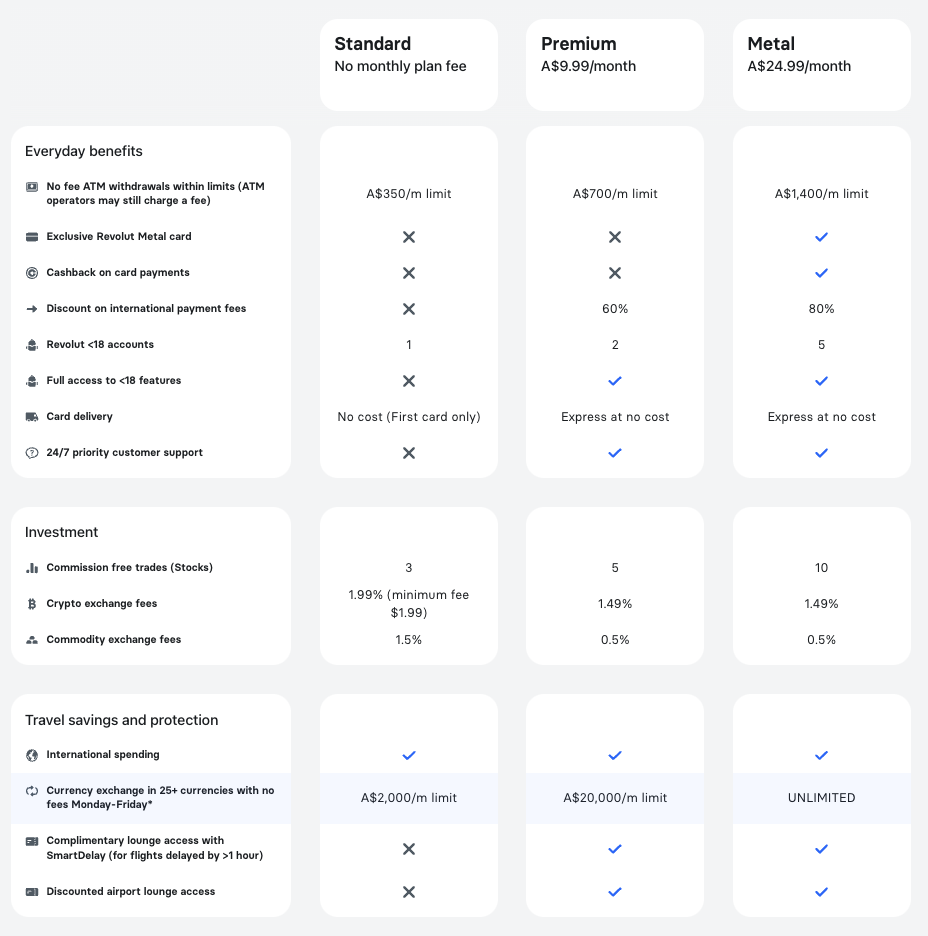 Revolut makes it as easy as possible to open an account, choose your plan, and apply for a Revolut card.
Open account
Download the Revolut app on your phone and open your Revolut account in a matter of minutes. You'll need ID.
Add money to your account
You can add money to your account with the Revolut app using a bank transfer, credit card, or debit card. You can even set up automatic top-ups when your balance gets low. It's best to start with AUD in your account and then exchange currencies as needed.
Apply for your Revolut card
You can apply for a Revolut card via the Request Card tab in the app. The first card is free.
Activate your Revolut card
Activating your physical Revolut card is easy. All you have to do is make a payment at any store or withdraw from an ATM. Virtual cards are automatically activated.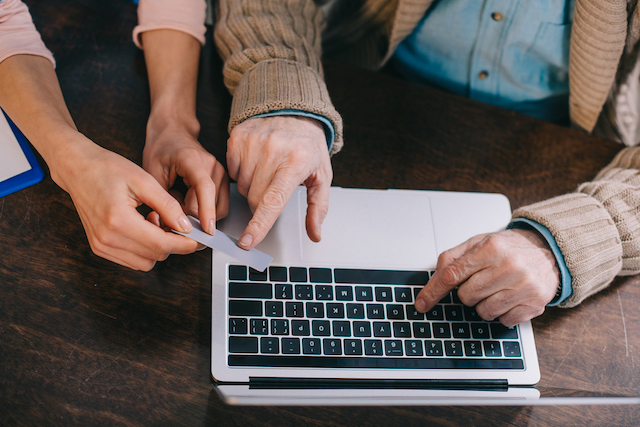 Where can you use the Revolut card?
According to the Revolut website, you can use your Revolut card in more than 200 countries worldwide. Card payments and ATM withdrawals are accepted in more than 130 currencies.
Despite this, you can actually only hold 25+ currencies in your account. Once you've loaded Australian Dollars into your account, you can exchange them for any of the following currencies:
AED, AUD, BGN, CAD, CHF, CZK, DKK, EUR, GBP, HKD, HUF, ILS, JPY, MXN, NOK, NZD, PLN, QAR, RON, SAR, SEK, SGD, THB, TRY, USD, ZAR.
Can Revolut be used in Australia?
Your Revolut card works just like a bank card in Australia. With it, you can make payments in local stores, withdraw from local ATMs, and send money to local banks.
But it's worth keeping in mind that the same spending limits apply whether you're using your card in Australia or overseas. You may prefer to use a debit card from your Australian bank for purchases and withdrawals in Australia.
Revolut virtual cards & app
The Revolut app is a godsend when it comes to tracking your daily expenses overseas and managing payments in different currencies. It's the perfect modern travel payment solution for the 21st century.
Revolut has refined its app, making it easy to create an account, load money, and view your account activities. You can exchange currency within the app and transfer money to Australian and international bank accounts.
Revolut embraces digital payment technology. While Revolut cards are compatible with digital wallets like Apple and Google Pay, the app also enables disposable virtual card technology for online payments.
This means that you can add single-use virtual cards to your account to use in addition to your physical card. Once you've made a payment online, the card will be destroyed and the number replaced, making it impossible to use them more than once.
Working out which is the best debit card all depends on how you like to travel and how you plan to use the card.
Many frequent travellers combine a Revolut Standard card with an additional card — such as the Wise card — to make the most of the free accounts and expand on their spending limits.
Frequent travellers and big spenders may quickly see the benefits of the Metal plan with its more generous free withdrawal and currency exchange limits — along with the added luxury of discounted lounge access (and free access for flight delays beyond one hour).
Not to mention Metal cardholders may be able to recoup the subscription costs quickly by making purchases through the cashback program.
It can take up to nine days to receive your Revolut card with standard shipping across Australia. Choosing express shipping can speed up the process, delivering your card within 3 business days.
Premium and Metal cardholders in the UK and the European Economic Area (EEA) have access to comprehensive travel insurance provided by Allianz.
While this feature isn't available to Australian cardholders yet, it's likely only a matter of time until Premium and Metal members here have access to it.
The advantage of Revolut is that you can manage your card and control your payment settings in the app.
To fortify your account, the Revolut app has a fingerprint ID log-in option and customisable features to allow you to disable things like contactless payments or ATM withdrawals.
You can freeze your card if it is lost or stolen to prevent further unauthorised purchases and, of course, you can also use the virtual cards we've mentioned above for added security.
Revolut uses the 3D Secure payments (which requires in-app payment verification) and the Sherlock anti-fraud system to receive real-time alerts on fraud activity.
Revolut Australia is regulated by Australian Securities and Investment Commission (ASIC) and your money is guaranteed up to $250,000 by a licensed bank in Australia, under the Payments Systems (Regulation) Act.